Start your day with School Breakfast!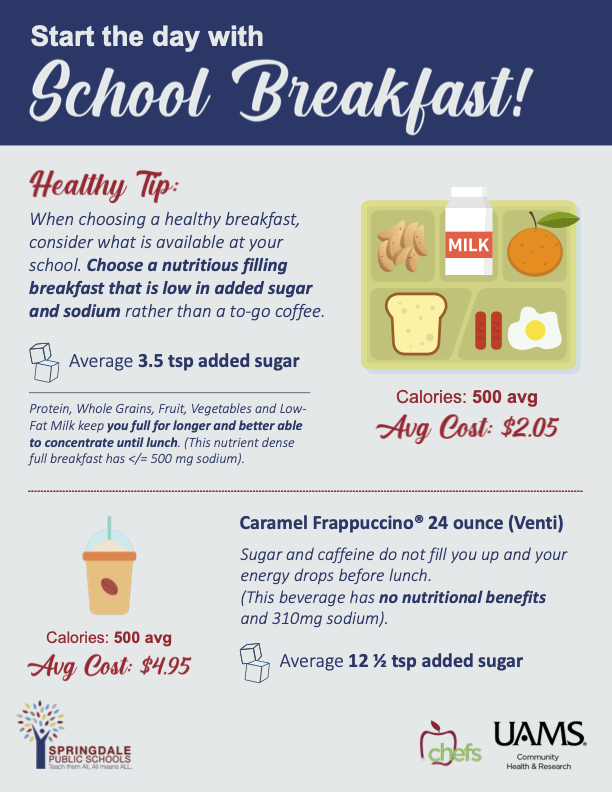 Come downtown and have some fun this weekend! #THEChoice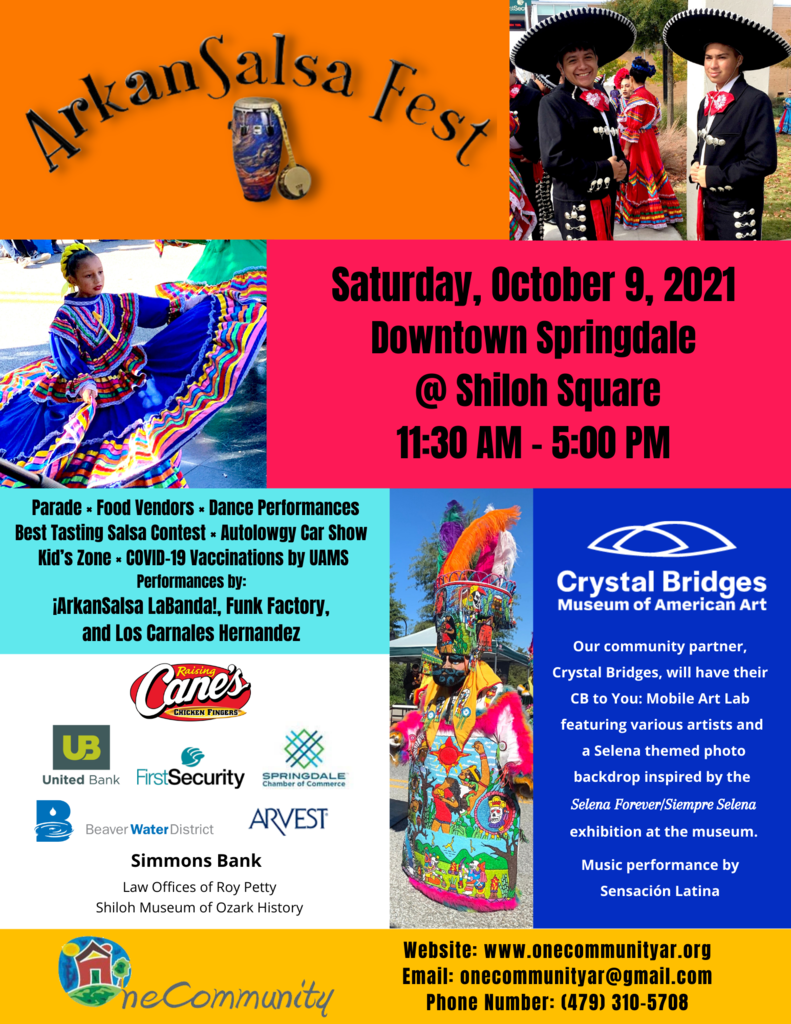 We desperately need your help! Even though all students are being allowed to eat for free again this year, we still need families to complete the free and reduced meal form. Here's why: Our district must have at least 70% of our students qualify for free and reduced meals by October 1, 2021, or we will lose up to $8 million dollars in funding next year. This $8 million dollars are the funds used to provide nurses, social workers, and school resource officers for each school. Right now, we are only at 66%. Will you please help us by completing the application today?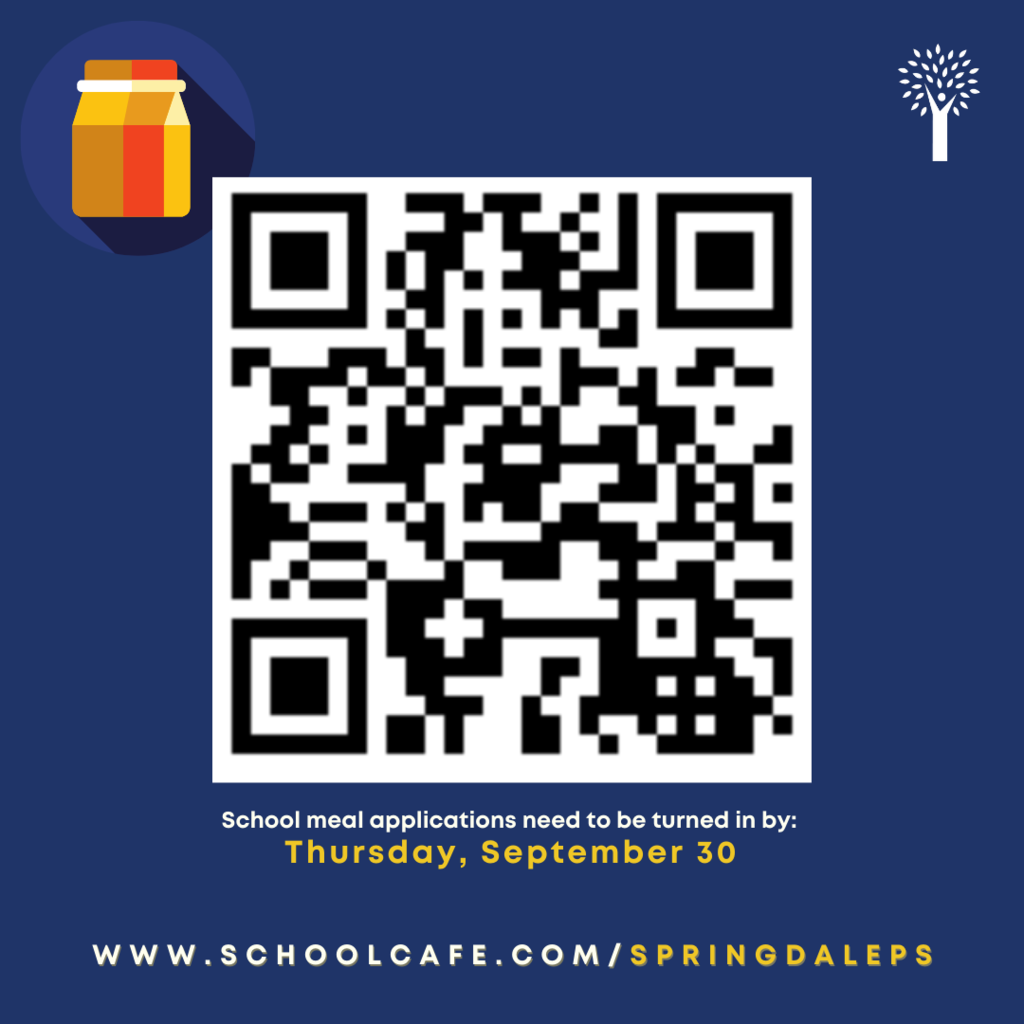 Choose your days + Choose your hours + Choose your school= AWESOME! Join us today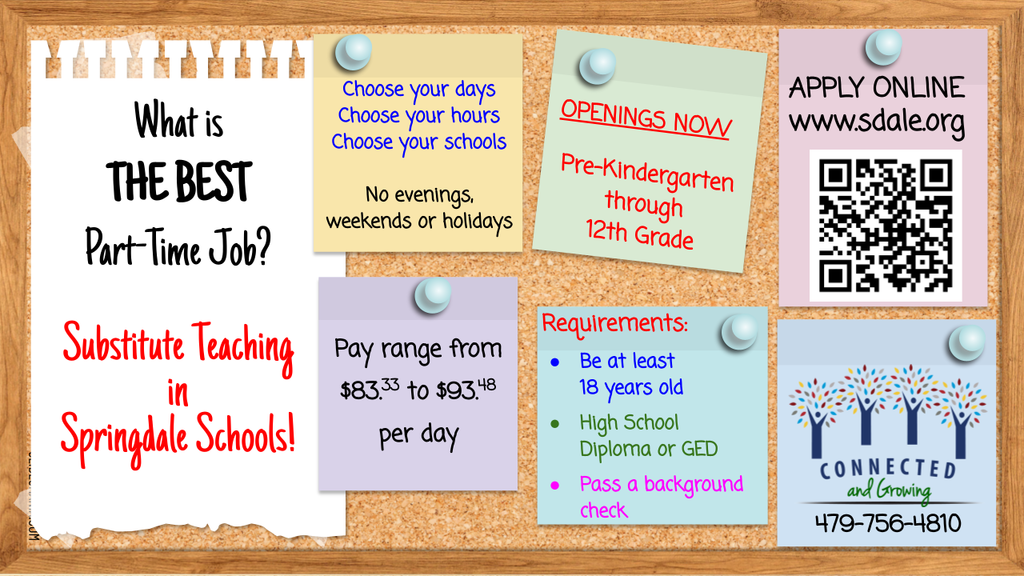 Please see this important information!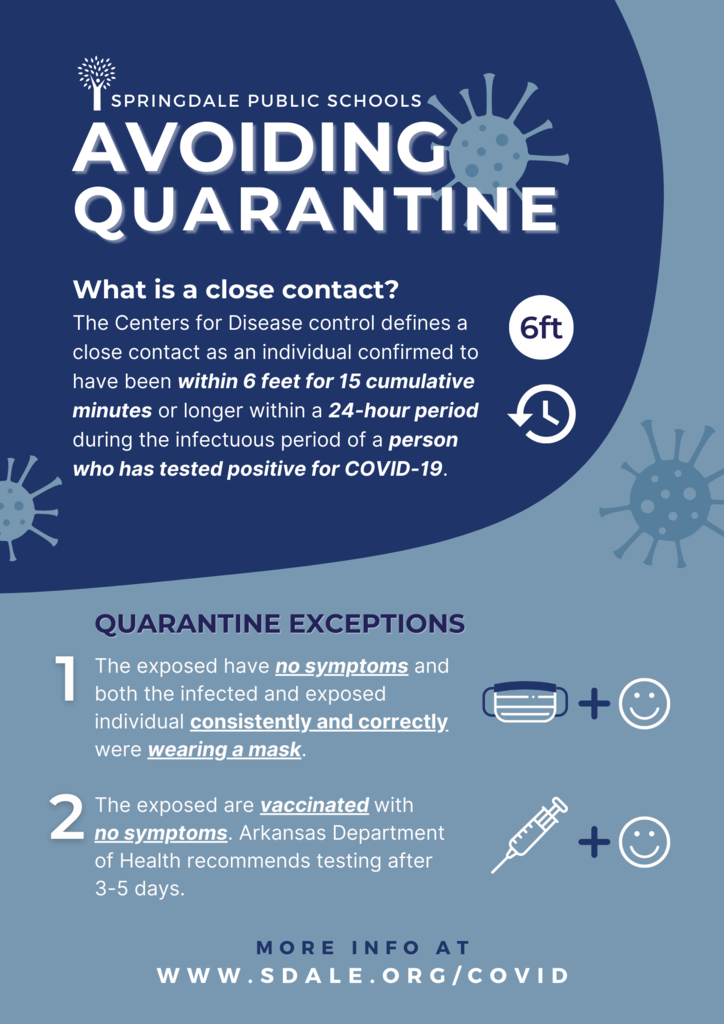 Getting to support our kids AND our teachers...what could be better?? Sign up today and join our Springdale Family! #THEChoice

Getting to support our kids AND our teachers...what could be better?? Sign up today and join our Springdale Family! #THEChoice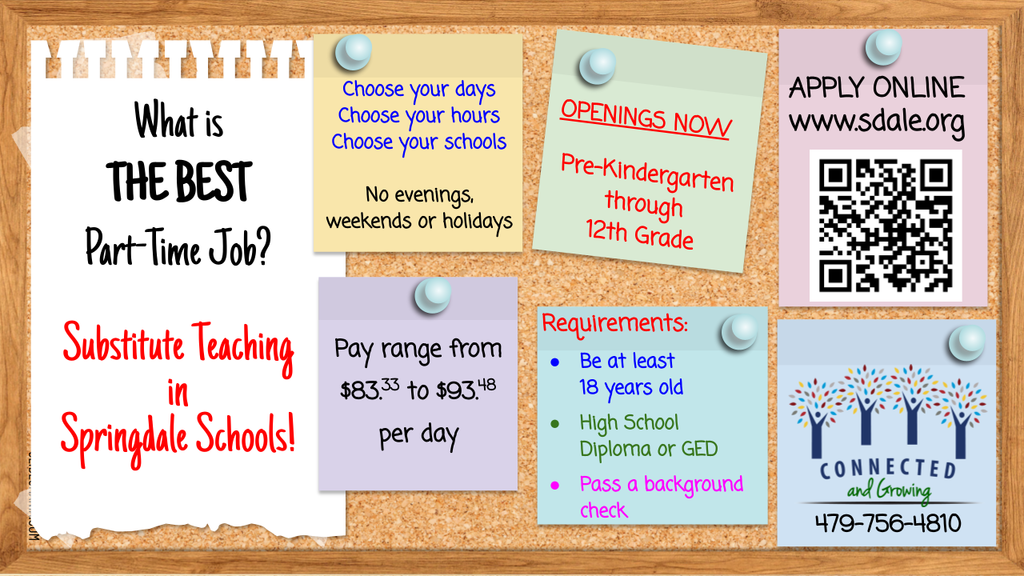 Up to $93.48 A DAY! WOW!! Come join our team #THEChoice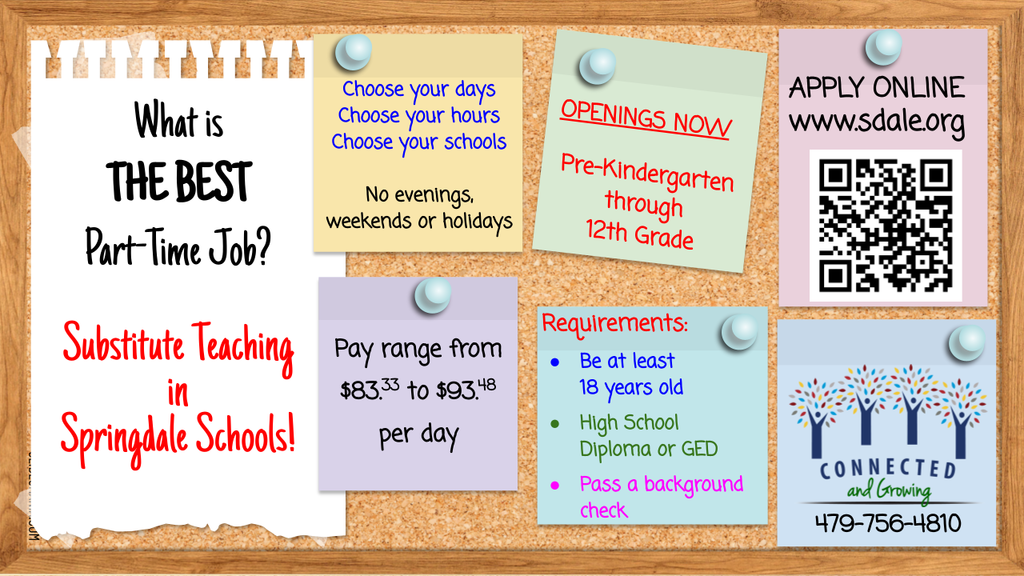 Jones Families, Just a reminder there is NO SCHOOL on Monday September 6th for Labor Day Holiday. The office and school will be closed. School will resume on Tuesday September 7th. Enjoy the long weekend. Jones Familias, Solo un recordatorio de que NO HAY CLASES el lunes 6 de septiembre para el feriado del Día del Trabajo. La oficina y la escuela estarán cerradas. La escuela se reanudará el martes 7 de septiembre. Disfruta el fin de semana largo.


Jones Families, Tomorrow night (Thursday) is our Meet the Teacher Event beginning at 4:00 and ending at 6:00pm. We look forward to seeing our families and meeting our new students! Jones Familias, Mañana por la noche (jueves) es nuestro evento Meet the Teacher que comienza a las 4:00 pm y termina a las 6:00 pm. ¡Esperamos ver a nuestras familias y conocer a nuestros nuevos estudiantes!


Springdale Schools and Arkansas Children's Hospital are partnering together to offer 3 Vaccination clinics this week eligible for 12 and up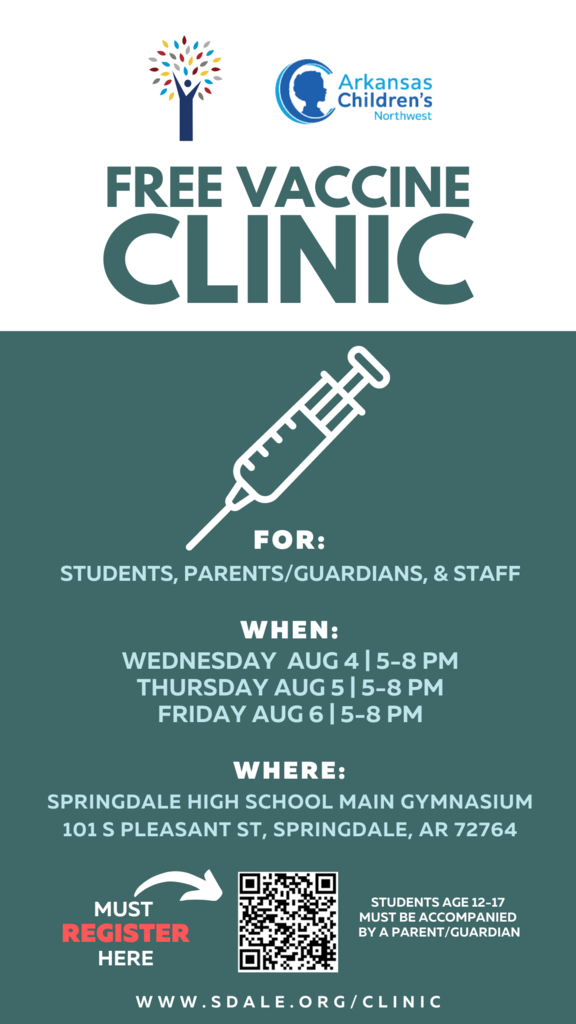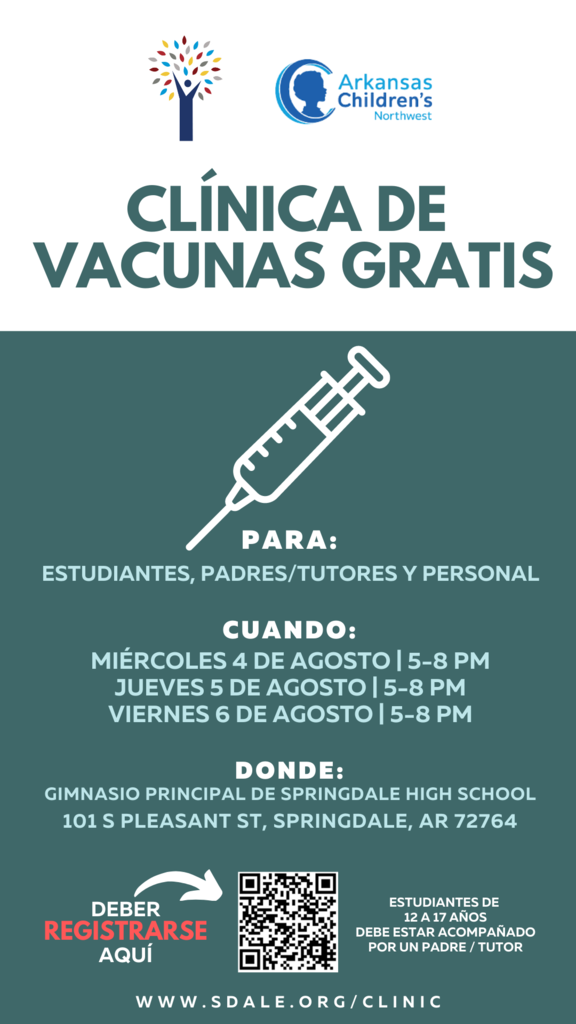 School is right around the corner! The first day of school is August 16th! Let's get ready to have some fun. Please see the important flyer below. ¡El primer día de clases está a la vuelta de la esquina, el 16 de agosto! Preparémonos para divertirnos. Consulte el folleto importante a continuación.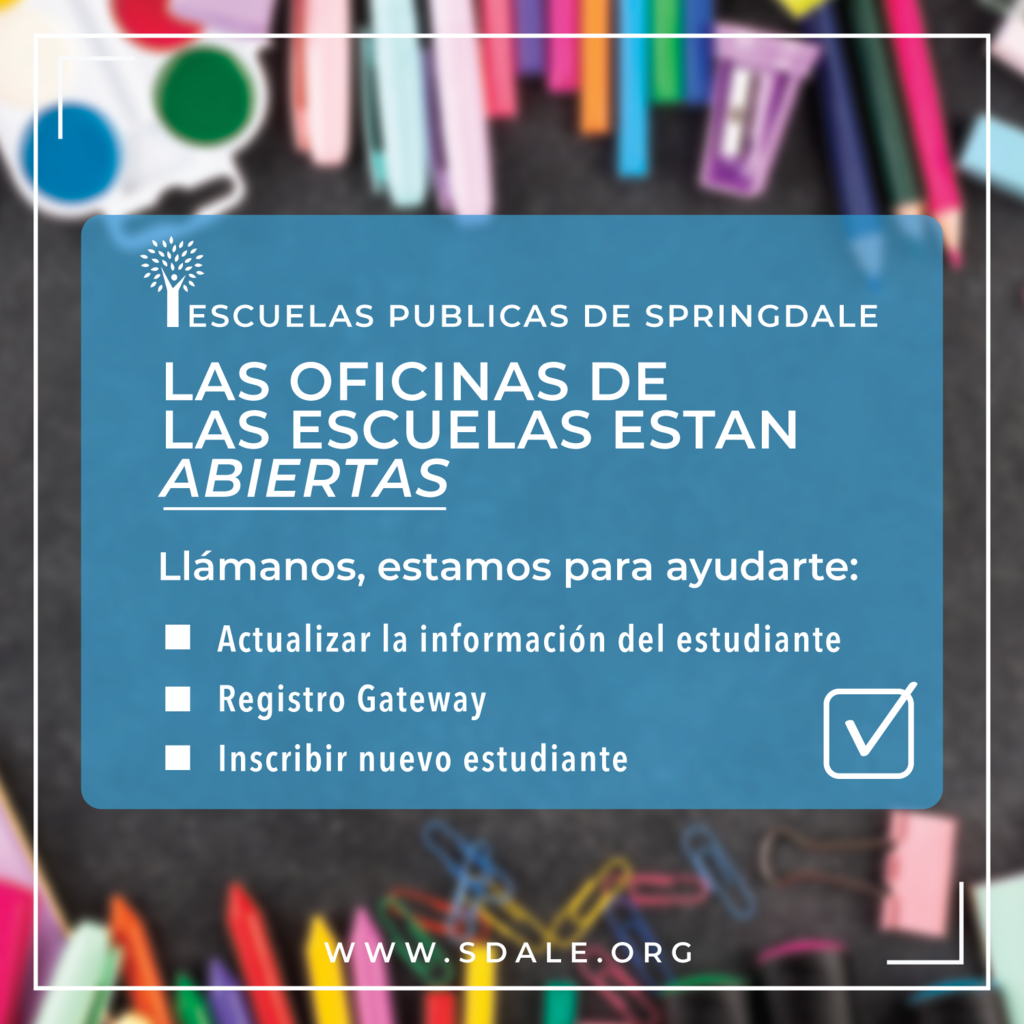 Buenas tardes, familias de Jones, La oficina de nuestra escuela ahora está abierta de 8: 00-3: 30 (lunes a viernes) para registrar nuevos estudiantes o responder cualquiera de sus preguntas sobre el próximo año escolar. El miércoles 28 de julio de 9: 00-11: 00 Jones organizará un evento de inscripción en el frente de la escuela para inscribir a nuevos estudiantes o kindergarten. Las cajas de la despensa de alimentos también estarán disponibles para recoger durante este tiempo. La Noche para conocer a su maestro está programada para el jueves 12 de agosto de 4: 00-6: 00 pm en Jones. El primer día de clases para los estudiantes es el lunes 16 de agosto. ¡Esperamos ver a nuestros estudiantes pronto!

Good Afternoon Jones Families, Our school office is now open from 8:00-3:30 (M-F) to register new students or answer any of your questions about the upcoming school year. On Wednesday, July 28th from 9:00-11:00 Jones will host an enrollment event in the front drive of the school to register new students or kindergarteners. Food pantry boxes will also be available for pick up during this time. Meet Your Teacher Night is currently scheduled for Thursday August 12th from 4:00-6:00 pm at Jones. First day of school for students is Monday August 16th. We look forward to seeing our students soon!

Greetings Jones Families, We hope you have had a wonderful summer. Our office will be open on Monday, July 26th for kindergarten registration or to enroll new students. Beginning on this date parents can drop by the building or call the office for assistance (479-750-8865. Meet Your Teacher Night will be held on Thursday, August 12 from 4:00-6:00. This year the school supply fee will be $20 per student. Monday, August 16th will be the first day of school for all students. We look forward to seeing our students back in the building soon! Jill Jackson, Principal Jake Beers, Assistant Principal

Springdale Schools is seeking feedback from various stakeholders who have insight into the effects of the COVID-19 pandemic on teaching and learning. Feedback will be used to inform the district's plan for the use of funds received.
https://forms.gle/3W5BZvbGoqEW8K658

"Thank you for your dedication to successfully completing what may be the most challenging year of education in our collective careers. You truly are developing hearts that care, minds that think, and hands that serve." Dr. Jared Cleveland
https://www.smore.com/cnsxz